Prepare this fantastic orzo pasta salad, filled with aromatic herbs and lemon, and serve it with salmon or a spinach pie. The leftovers served cold are perfect for lunch the next day.
Make this simple Orzo Pasta Salad with herbs and lemon, perfect with salmon or any meat you like. Enjoy the cold leftovers for a great lunch the next day.
This salad is made of orzo pasta mixed with capers, parsley, almonds, and caramelized sweet red onions. It's all dressed in a tasty vinaigrette of olive oil and lemon juice.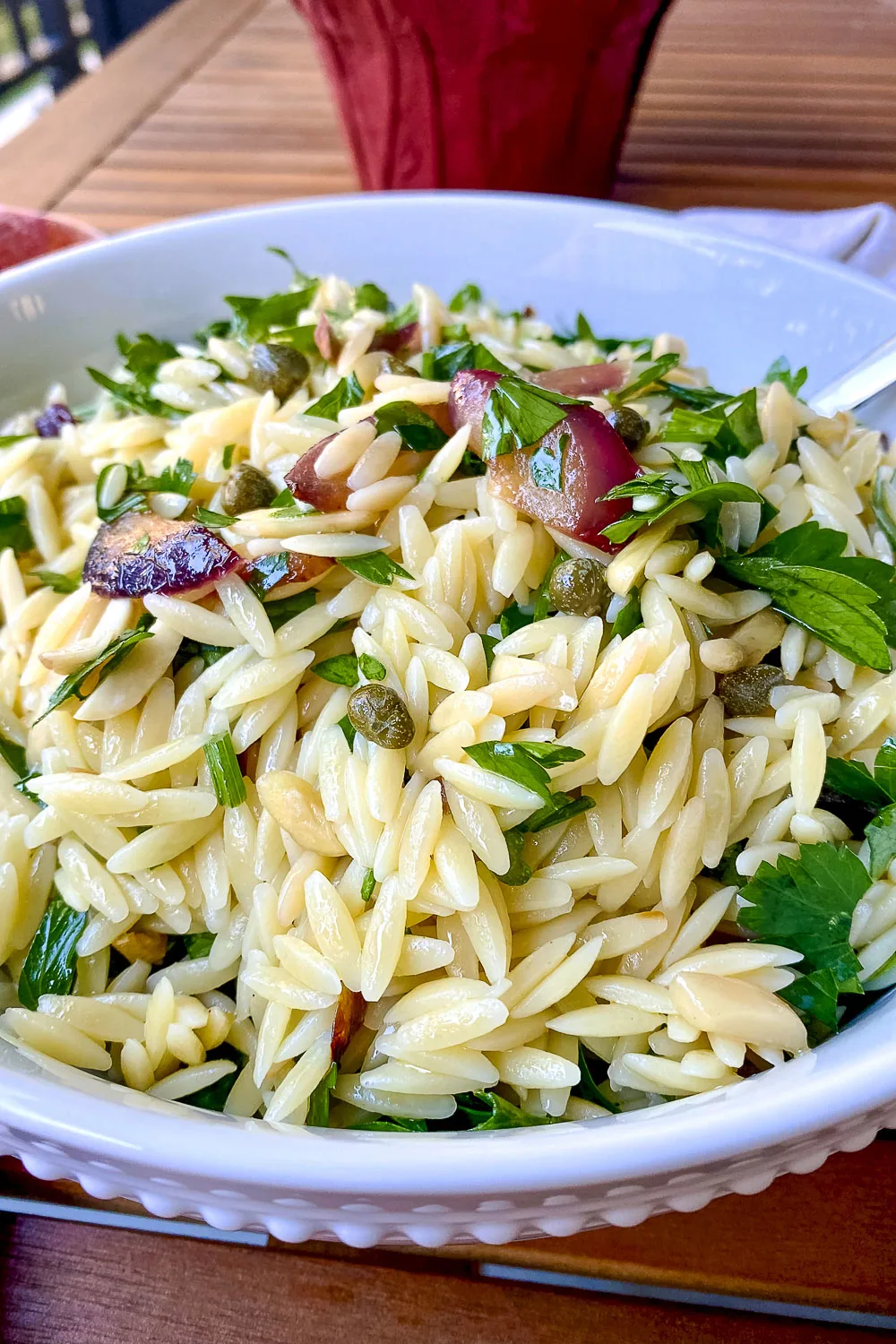 Understanding Orzo
Orzo, also known as risoni, resembles an oversized grain of rice. Typically crafted from semolina – a flour variant derived from durum wheat, this pasta variant is exceptionally versatile.
It can add depth to soups, be transformed into salads, served as an accompaniment, or even baked in a casserole.
Decoding Capers
Capers are the edible buds of the caper plant, commonly found across Europe, predominantly in Mediterranean regions.
These buds are usually pickled or salted and utilized as garnish or seasoning. Exhibiting a dark olive-green hue, they are a staple in Mediterranean cuisines such as Italian, Greek, Cypriot, and others.
Capers are readily available in most US stores and are a versatile addition to numerous recipes.
Reasons to try this recipe
Easy to Prepare: Despite its sophisticated taste, this pasta salad is simple to make and requires only a few ingredients.
Great for on-the-go: This salad, with its caramelized onions and brined capers, travels well. The lemon and olive oil dressing is also sturdy, making this dish perfect for picnics or warm days.
Fresh and Light: This salad doesn't contain mayo or dairy, making it a great choice for summer. It also works well as a simple side dish that pairs nicely with grilled or roasted meats anytime.
Tasty: The mix of olive oil and lemon juice makes this salad truly delicious. It brings to mind Mediterranean dishes, where simple ingredients come together to create fantastic flavors.
Key ingredients for the salad
The salad perfectly balances different textures and flavors, with the simple vinaigrette serving as the standout component. Here's a detailed list of the ingredients.
Orzo Pasta – The star ingredient, although if unavailable, substitute it with any pasta suitable for salads.
Red Onions – The caramelized red onions brings character, sweetness, and color to the salad. Substitute with other onion types only if necessary.
Garlic – Used primarily for flavor, it can be omitted if not preferred.
Capers – Make sure to buy a jar of these small capers, which are different from berry capers. Berry capers are the actual fruit of the caper plant and are larger with a different taste and texture.
Almonds – Slivered almonds work best, but sliced or chopped whole almonds are also acceptable.
Parsley – Opt for Italian flat-leaf parsley due to its rich flavor and vibrant color.
Olive oil, Butter, Brown Sugar – Used for caramelizing the onions and garlic. The brown sugar enhances the onion's flavor, although regular sugar works just as well.
Dressing – Lemon juice, olive oil, salt, and pepper – This is the most effortless dressing suitable for most salads. Fresh lemon juice is a better choice, and the zest can also be added for extra flavor.
How to make this orzo pasta salad:
(For the full set of instructions, see the recipe card at the end of the article):
Step 1: Caramelize the onions
In a nonstick pan, heat the oil and butter. Slowly cook the onions, ensuring they don't burn. Add minced garlic and sugar, continuing to cook until the onions are golden and caramelized. Set aside to cool.
Step 2: Prepare the pasta
While the onions are cooling, follow the package instructions to cook the orzo pasta. Typically, orzo is boiled in salted water for approximately 5 minutes.
Once cooked, drain the pasta and lightly drizzle some oil to keep the grains separated and fluffy. Set it aside to cool.
Step 3: Make the dressing
Combine oil, lemon juice, salt, and pepper in a small bowl or jar and whisk together. Adjust the salt to your preference.
Remember: Salt quantities listed in the ingredients are only a guide. You might prefer less salt, or maybe a bit more; there's no hard and fast rule here. Make the recipe your own.
Step 4. Assemble the salad
In a large bowl, add the cooled pasta, caramelized onions, chopped parsley, capers, and half of the almonds.
Pour in the dressing and gently toss the salad, ensuring all ingredients are well coated.
Finally, garnish with the remaining almonds and serve.
Storing Leftovers
Refrigerate any leftovers, and they should keep well for up to three days.
Recipe faqs
Can I prepare this dish a day in advance?
Absolutely! Just add half the dressing initially. On the day you serve the salad, add the remaining dressing and mix gently. If all the dressing is added at the start, the pasta might absorb it all, resulting in a dry salad.
Can I use a different type of pasta if I can't find orzo?
Yes, you can substitute orzo with other small pasta shapes like farfalle (bow-tie) or fusilli. However, the cooking time might vary depending on the type of pasta you use, so be sure to follow the instructions on the pasta package.
Is this salad vegan?
As long as you don't add any cheese or other animal products, this salad is vegan. The main ingredients, including orzo pasta, capers, parsley, almonds, red onions, olive oil, and lemon juice, are all plant-based.
Can I add some protein to this salad?
Absolutely! Grilled chicken, tofu, or shrimps could be a great addition to this salad if you're looking to make it more filling.
More recipes to love: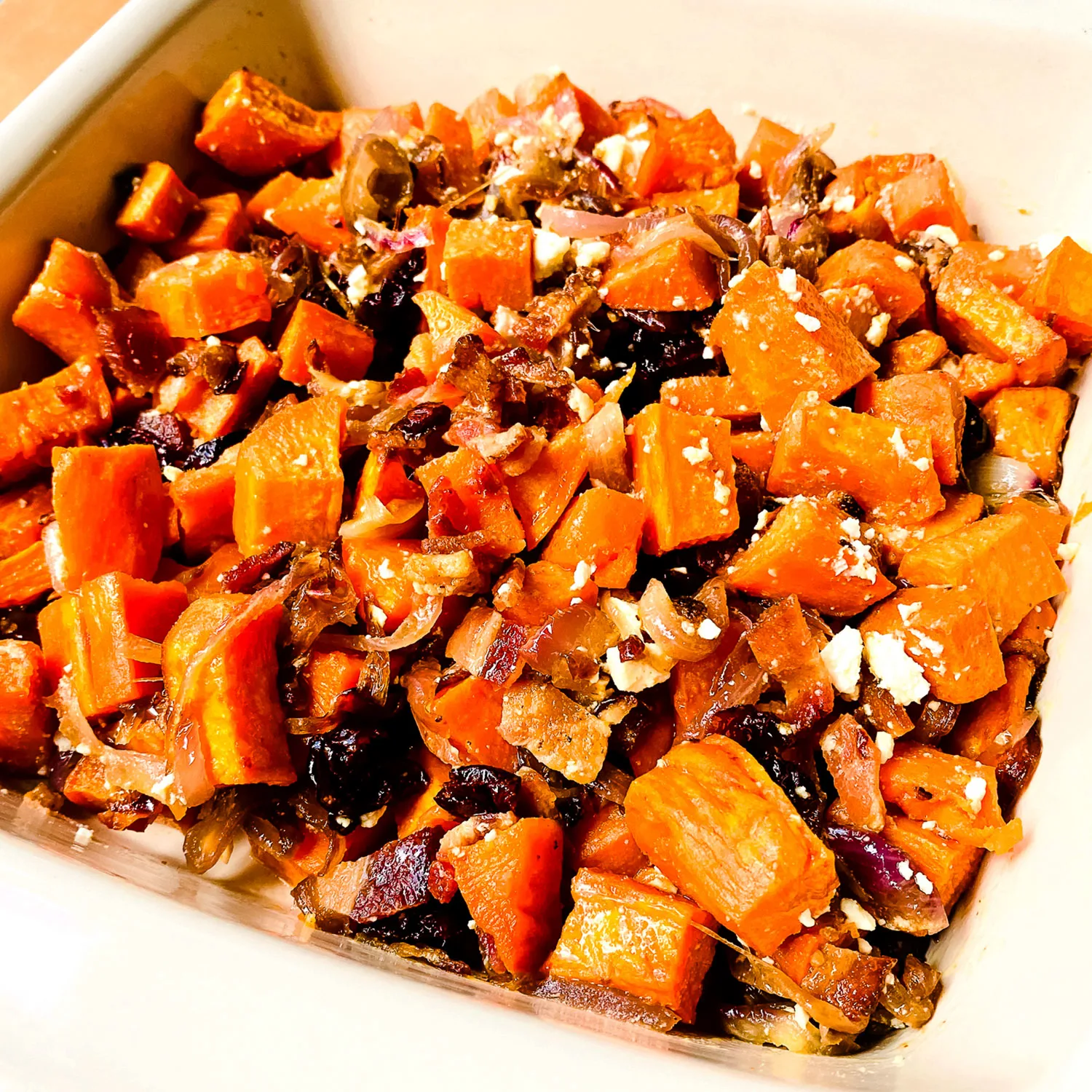 Sweet Potato Salad
A Sweet Potato Salad is an excellent addition to a winter meal. It could be served at any gathering, during the holidays, or when you are in the mood for a simple meal made easy and fast.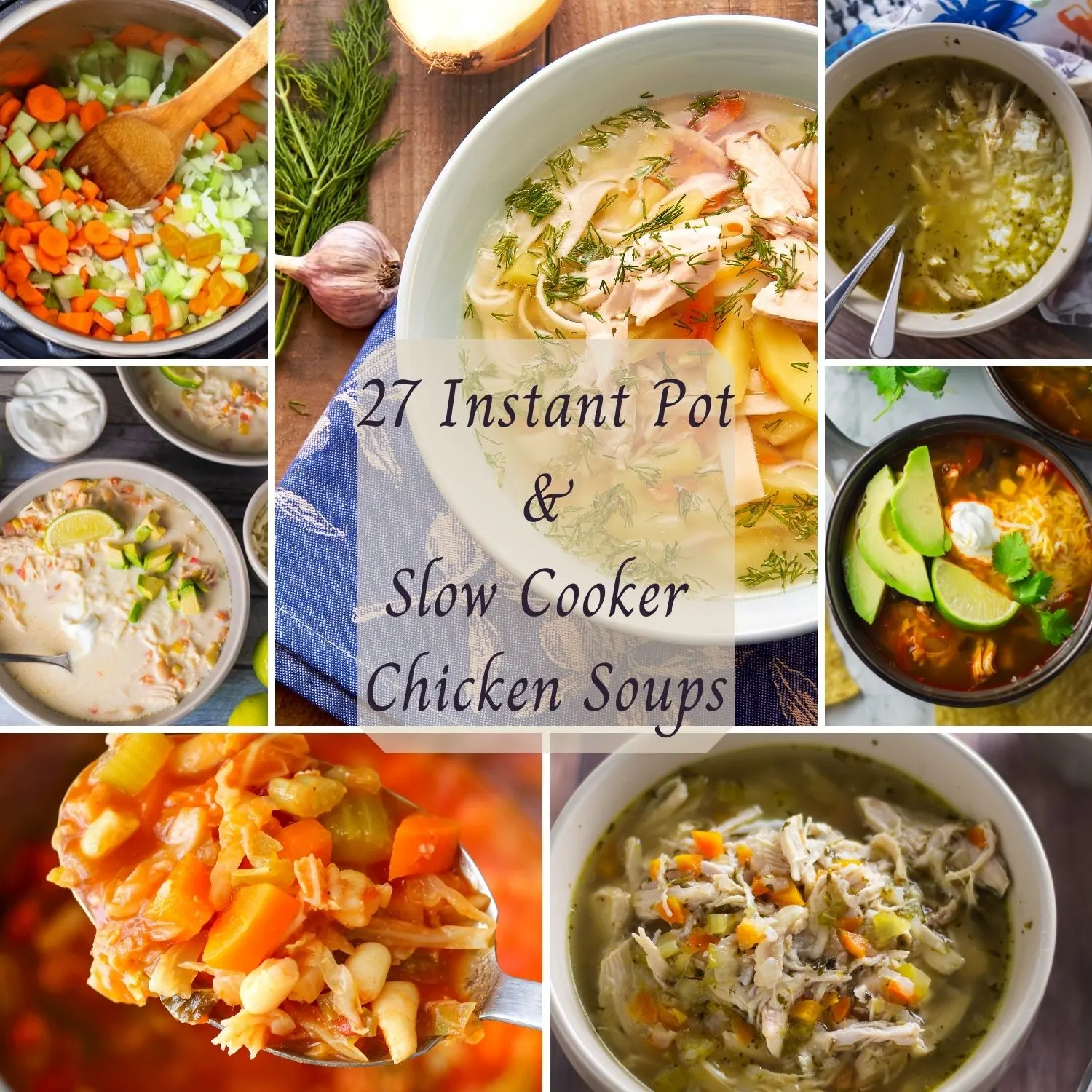 27 Instant Pot & Slow Cooker Chicken Soups
n this article, you will find a collection of 27 Instant Pot & Slow Cooker Chicken Soups made from scratch. You will be amazed how fast it is to put dinner on the table if you use an Instant Pot, but also you can benefit from the slow cooker to make these soups low and slow on a cold winter day.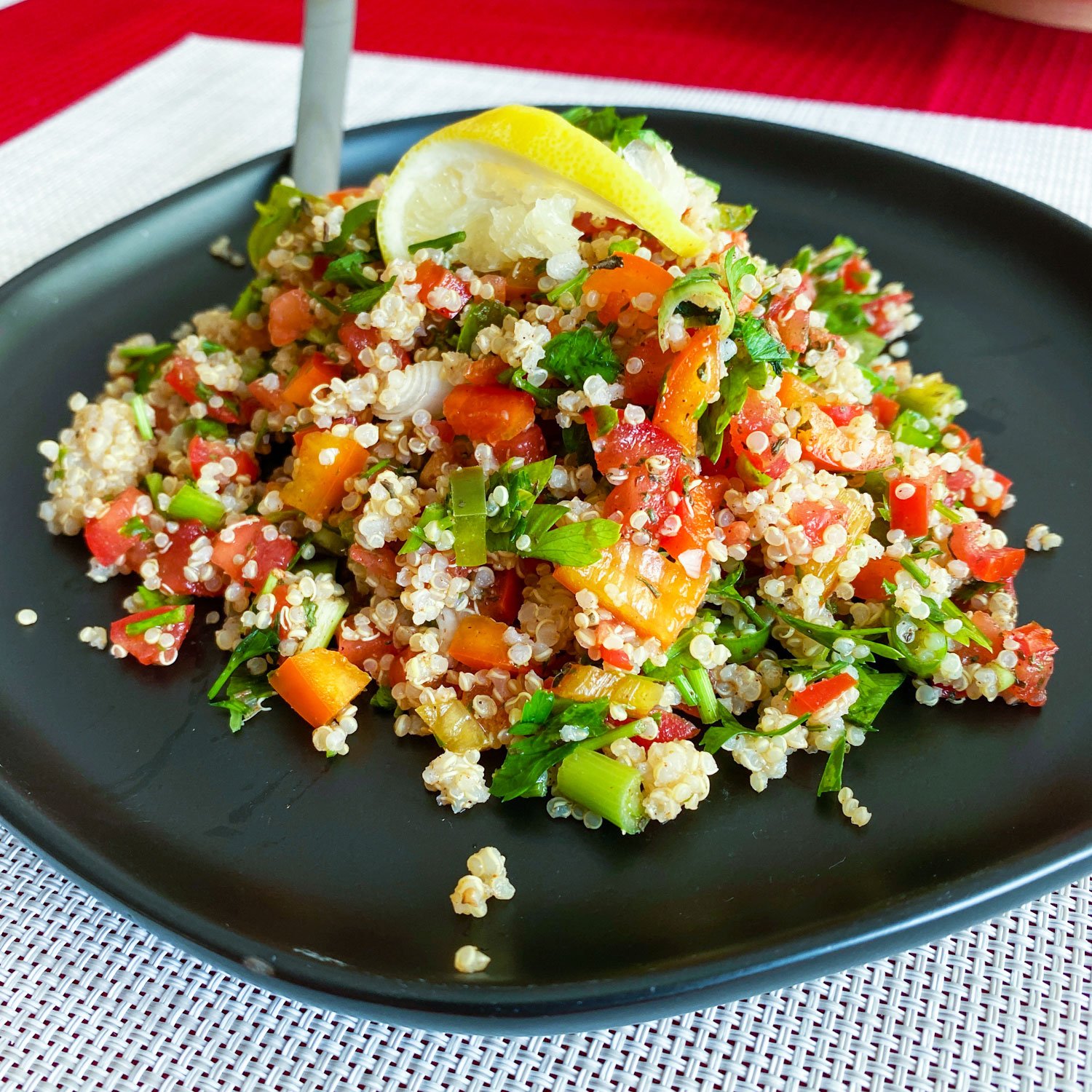 Quinoa Tabbouleh Salad- A Summer Delight
This quinoa tabbouleh salad uses beautiful, fresh ingredients that are easy to put together. Delicious and also gluten free.
Baked Mac And Cheese With Ham
Baked Mac And Cheese With Ham is one of the most comforting meals you can have. The addition of ham makes this casserole hearty and perfect for chilly nights.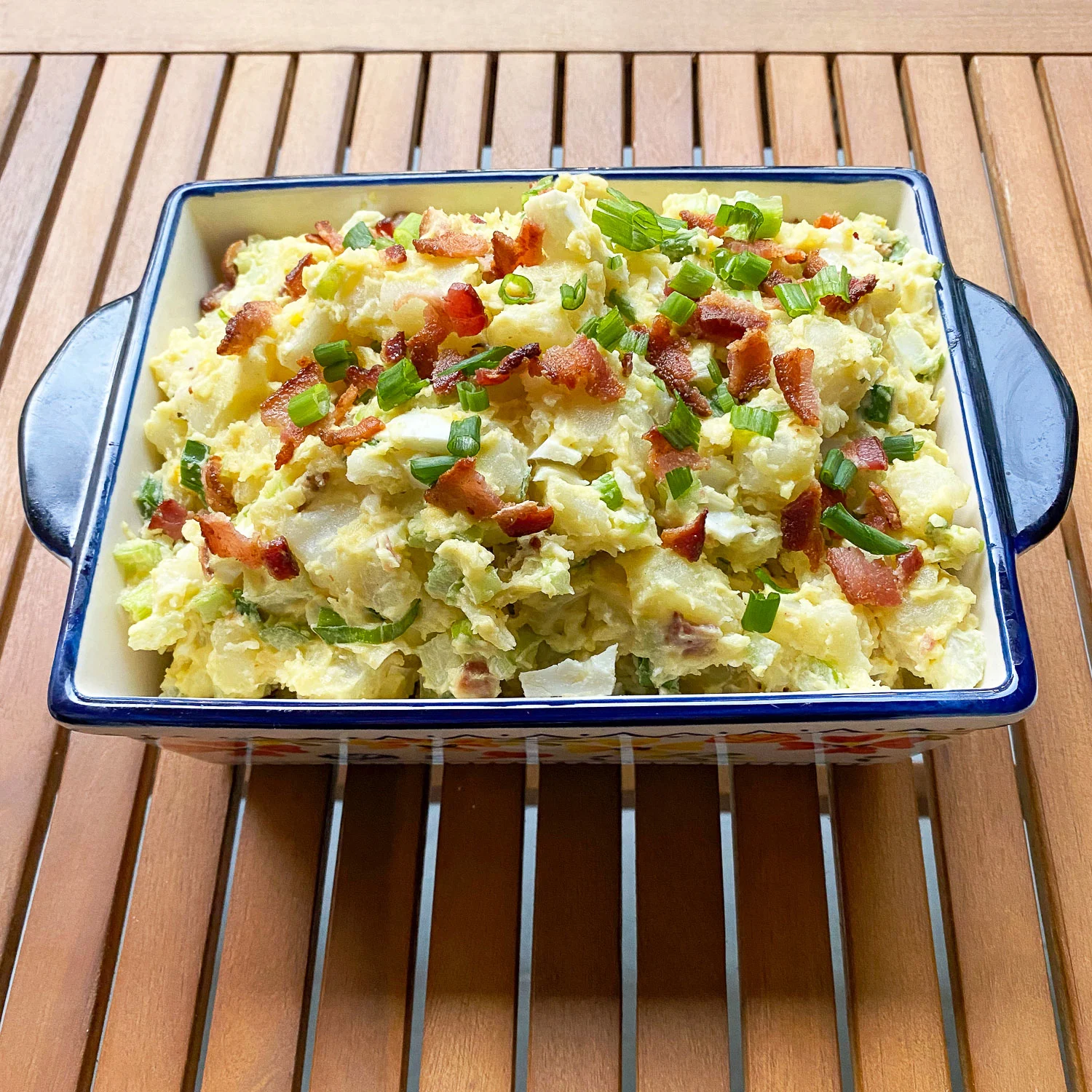 Bacon Potato Salad
This Bacon Potato Salad is a classic potato salad that will make your heart happy. Made with bacon, hard-boiled eggs, and mayo, this humble salad is perfect for any occasion, from barbecues to potlucks and everything else in between.
Orzo Pasta Salad
Prepare this fantastic orzo pasta salad, filled with aromatic herbs and lemon, and serve it with salmon or a spinach pie. The leftovers served cold are perfect for lunch the next day.
Ingredients
For the salad:
12

ounces

orzo pasta

1

tablespoon

olive oil

1

tablespoon

butter

unsalted

1

red onion

medium, sliced

1

garlic clove

minced

½

tablespoon

brown sugar

or granulated sugar

2

tablespoons

capers

drained and rinsed

1

parsley

fresh small bunch

½

cup

almond

slivers or flakes
For the dressing:
3

tablespoons

olive oil

1

lemon

large, juiced

½

teaspoon

salt

or to taste

¼

teaspoon

ground pepper
Instructions
Heat the oil and butter in a nonstick medium pan. Add sliced onion and stir to coat the onions with the oil. Spread the onions out evenly over the pan and let cook, occasionally stirring, for about 8-10 minutes. When the onions are golden and caramelized, add the minced garlic.

Add sugar and stir everything for 3 minutes. Use salt and pepper to your taste.

Cook the orzo pasta according to the package. Drain and drizzle a few drops of oil over them. Set them aside to cool down.

Make the dressing: In a small bowl, whisk together oil, lemon juice, and salt.

Place pasta, caramelized onions, chopped parsley, capers, and half the almonds in a large bowl.

Add the dressing and toss the salad gently. Make sure the dressing coats all ingredients.

Sprinkle the rest of the almonds over the salad and serve.

The salad will keep well in the refrigerator for three days.
Notes
You can replace orzo with:
– Israelian couscous
– Orecchiette pasta or Farfalle
Nutrition
Serving:
1
g
Calories:
309
kcal
Carbohydrates:
32
g
Protein:
7
g
Fat:
18
g
Saturated Fat:
3
g
Polyunsaturated Fat:
14
g
Cholesterol:
5
mg
Sodium:
321
mg
Fiber:
3
g
Sugar:
3
g
Note: "We are a participant in the Amazon Services LLC Associates Program, an affiliate advertising program designed to provide a means for us to earn fees by linking to Amazon.com and affiliated sites."